On September 11th, I had the opportunity to join community members and others for the first meeting of the Year of Courageous Conversations series.  Created by Barrington's own Claire Nelson, Jessica Swoyer Green, and Zina Jacque, the Courageous Conversations series aims to foster greater inclusion and belonging in our community.  Fittingly, the focus of the first meeting in the series was defining courage. 
Courage is defined as the ability move beyond our fears to do something that frightens us.  Courage allows us to step out of our comfort zone and into the unknown, to challenge our fears and our thoughts, ideas, and beliefs in our effort to grow.   
Nelson Mandela said about courage, "I learned that courage was not the absence of fear, but the triumph over it. The brave man is not he who does not feel afraid, but he who conquers that fear."  
Finding courage within ourselves is the first step – it is the beginning of facing our fears and self-doubt, stepping into the known, risking embarrassment or rejection, standing up for what we believe in, challenging adversity, persevering, and discovering our own inner strength.  It helps us to grow and to build the confidence we need to approach new experiences, ideas, and perspectives and face our own discomfort and know that we can overcome it.  As Mark Twain said, "Courage isn't the lack of fear but rather acting in spite of our fears." 
Courage might be trying something new or challenging, standing up for what you believe is right, raising your voice or saying "no", or facing adversity.  It takes courage to ask for help, to stand up to a bully, to risk failure, to open your heart and mind to something new, to be willing to challenge a deeply held belief about yourself or the world, to be vulnerable.  Courage takes many different forms. 
So, how can you foster courage within your children and family? 
Recognize and acknowledge that courage can be scary and unsettling.  Remember, courage requires us to act despite our fear. 

Acknowledge and celebrate examples of courage in your own life and in the world around you. 

Talk about your family values and teach your children to trust their instincts.  Let them know that it's ok to say "no" when something doesn't feel right. 

Talk about their fears and model problem-solving strategies to help overcome them. 

Allow them to fail and give them permission not to be perfect.  Understanding that failure is part of the learning process allows them to have the courage to take risks in order to grow. 

Encourage and help to foster their self-confidence. 

Model courage and being brave by talking about your own fears and showing them examples of doing something even when you are afraid. 

Try new things together and encourage taking healthy, calculated risks. 

Develop strong, loving connections within your family that allows your children to feel greater confidence and know that they have a safe space to fall back upon.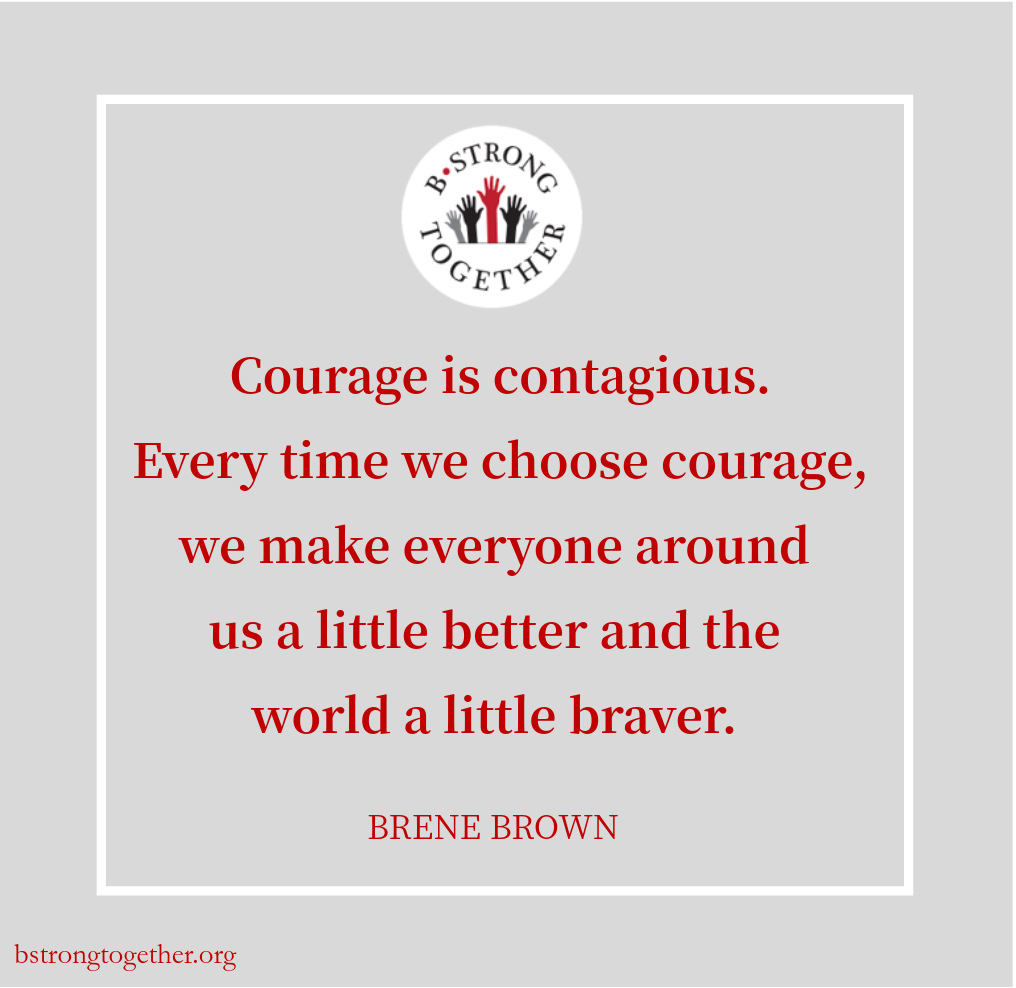 Books are a wonderful way to teach children about courage.  Courage by Bernard Waber and Brave Irene by William Steig are great for younger kids while Wringer by Jerry Spinelli and Stand Up for Yourself and Your Friends by Patti Kelley Criswell and Angela Martini are appropriate for older kids.  Looking for other titles? Here is a great list of 40 books that help to teach children about courage and bravery. 
Common Sense Media has also created these lists of movies and television shows that inspire courage. Watching movies and television shows together as a family can be a great way to examine examples of courage and start conversations about being courageous in your own life.
To start a conversation about courage, ask - 
What do you think courage looks like? 

Can you think of a time when you were courageous? 

How did it make you feel? 

Can you think of a time when someone else acted courageously? 

Can you think of a character in a book, movie, or other media that shows courage? 

Can you think of other ways to show courage? 
When faced with an opportunity to display courage, ask -
Do you think you should do something about that?  What could you do? 

What harm can come from my actions? 

What are you afraid of? 

What might happen (good or bad) as a result of you actions (or inaction)? 

What is the worst thing that could happen as a result of your action (or inaction)? 

Are your actions aligned with your values? 

What are some strategies that you can use to manage your fear or stress and stay calm  when you are afraid?
If you want to read more about developing courage, check out How to be Courageous: A Complete Guide to Developing Courage, Courage Activities for Kids, or Brave New Child: 8 Smart Ways to Teach Independence, Self-Confidence & Resilience.
Remember, we all have the capacity for courage and the more we practice it, the stronger and more comfortable we become with being courageous.