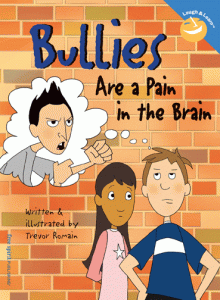 Bullies are mean. Bullies are scary. Bullies are a pain in the brain—and every child needs to know what to do when confronted by one. This book blends humor with serious, practical suggestions for coping with bullies. Trevor Romain reassures kids that they're not alone and it's not their fault if a bully decides to pick on them. He explains some people are bullies and describes realistic ways to become "Bully-Proof," stop bullies from hurting others, and get help in dangerous situations. And if bullies happen to read this book, they'll find ideas they can use to get along with others and feel good about themselves—without making other people miserable.
Reviews
"A deceptively simple approach to dealing with a difficult issue faced by millions of children every day." — School Library Journal
"Attractive format . . . especially accessible to children." — School Library Journal
About the Author
When South African-born Trevor Romain was 12, his teacher told him he wasn't talented enough to do art. But, 20 years later he discovered that he could draw. He has since written and illustrated more than 30 children's books, and he has an animated video series for kids based on his best-selling, award-winning books. Trevor also visits schools to speak to children, and he spends his free time with kids who have cancer at the Brackenridge Hospital in Austin, Texas.