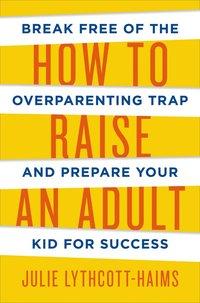 A provocative manifesto that exposes the harms of helicopter parenting and sets forth an alternate philosophy for raising preteens and teens to self-sufficient young adulthood.
In How to Raise an Adult, Julie Lythcott-Haims draws on research, on conversations with admissions officers, educators, and employers, and on her own insights as a mother and as a student dean to highlight the ways in which over-parenting harms children, their stressed-out parents, and society at large. While empathizing with the parental hopes and, especially, fears that lead to over-helping, Lythcott-Haims offers practical alternative strategies that underline the importance of allowing children to make their own mistakes and develop the resilience, resourcefulness, and inner determination necessary for success.
Relevant to parents of toddlers as well as of twenty-somethings - and of special value to parents of teens - his book is a rallying cry for those who wish to ensure that the next generation can take charge of their own lives with competence and confidence.
About the Author by the Author
"I am deeply interested in humans – all of us – living lives of meaning and purpose, which requires figuring out what we're good at and what we love, and being the best version of that self we can be. So I'm interested in what gets in the way of that.  I wrote this book because too many adolescents and young adults seem to be on a path of someone else's making, while being subjected to a lot of hovering and lot of help to ensure that particular path is walked, all in furtherance of a very limited and narrow definition of "success."  I come at this issue from the dual vantage points of former university dean and parent of two teenagers, and with great empathy for humans.
I majored in American Studies at Stanford University (1989) and studied law at Harvard (1994). I practiced law in the Bay Area in the 1990s before returning to Stanford to serve in various roles including Dean of Freshmen, a position I created and held for a decade. In my final three years at Stanford I was Associate Vice Provost for Undergraduate Education and Dean of Freshmen and Undergraduate Advising, and in 2010 I received the university's Lloyd W. Dinkelspiel Award for "creating the atmosphere that defines the undergraduate experience." Since leaving Stanford in 2012 I've been pursuing an MFA at California College of the Arts in San Francisco.
In addition to non-fiction I write creative non-fiction, poetry, short stories, and plays. My work has appeared on TEDx talks and in the Chicago Tribune, Forbes, The New York Times, Slate.com, Time.com, and Huffington Post. I live in the San Francisco Bay Area with my husband, our teenagers, and my mother." - Julie Lythcott Haims