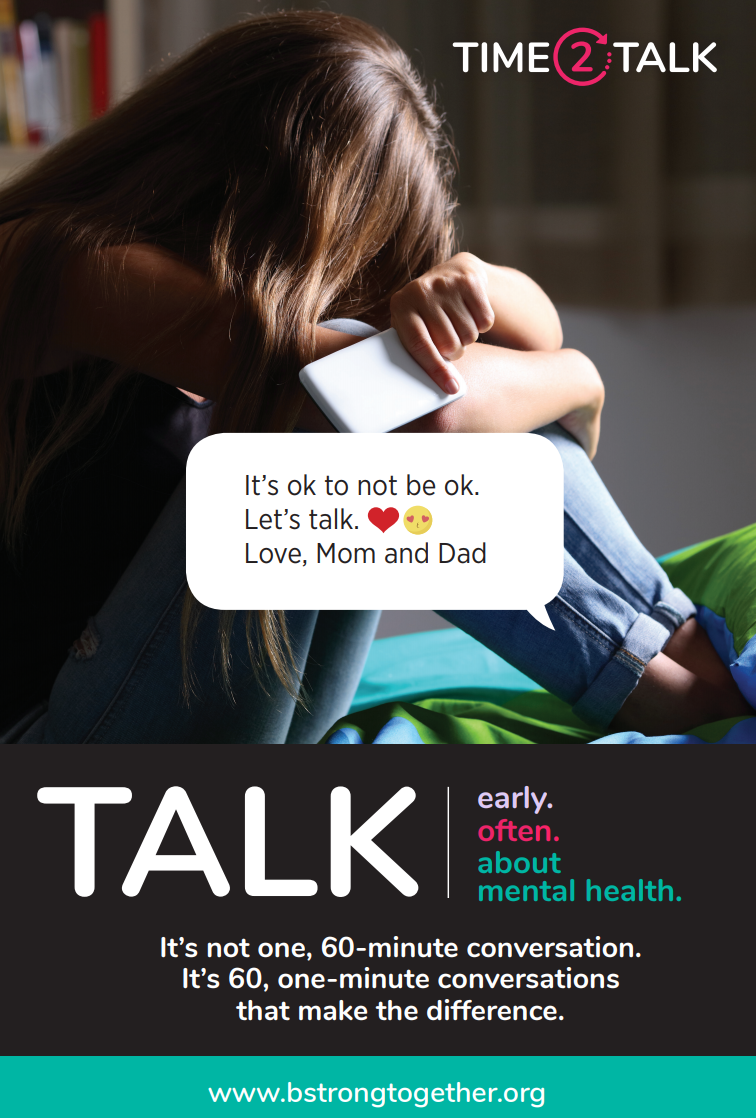 If you or someone you know is in crisis:
Call the National Suicide Prevention Lifeline at (800) 273-TALK.
Text "BRONCOHELP" to Text-a-Tip at (844) 823-5323.
Text "HELLO" to the Crisis Text Line at 741741.
  For local resources, visit www.healthybarrington.org. 
The third mailing in the campaign - Time-2-Talk About Mental Health - arrived in homes in May of 2019 in coordination with May Mental Health Month and Mental Health Awareness Week at Barrington High School.  The campaign aims to support mental wellness, de-stigmatize mental health challenges, and remind students to reach out when they are struggling.
To support mental wellness, create a safe, positive home environment and teach your children the role that sleep, exercise, nutrition, play, mindfulness, and connection with others plays in their mental health. Help them to identify the trusted people in their lives they can turn to for support and make sure they know that it shows strength to ask for help when they are struggling. Teach them that asking "ARE YOU OKAY?" can save a life. 
Click on the following links for helpful talking tips and information in support of emotional and mental wellness:
Stress and managing stress during finals
Mental health and teen depression
Building resilience
Play