How to Raise Resilient Children
View Calendar
02/27/18 7:00 pm - 8:30 pm
FREE program open to the community.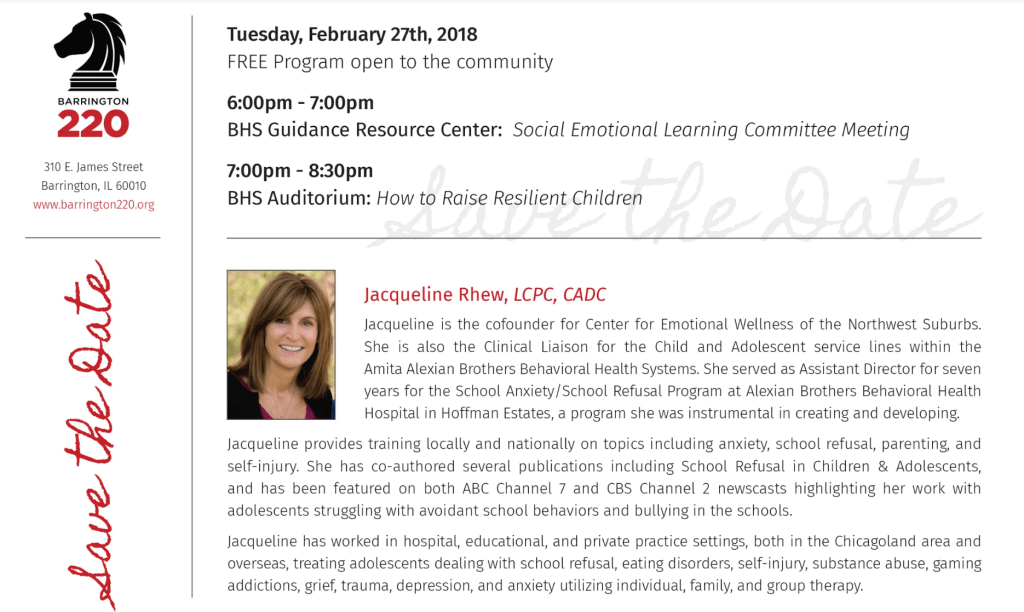 Related upcoming events
08/23/18 6:30 pm - 08/23/18 9:00 pm

Stop by our table to learn more about BStrong Together and our programs to support children, youth, parents, caregivers, educators and community members as we strive to raise healthy, happy, resilient, adaptable kids.

Bring your family, friends, and neighbors to downtown Barrington every Thursday evening for the 15th season of Cruise Nights!

The weekly car show is held every Thursday night at 6:30 p.m. from June 1st through August 31st. The event is FREE and is located in downtown Barrington in the Harris Bank Parking Lot on South Cook Street, just south of Lake-Cook Road. Each week there will be food and ice cream vendors, fantastic prizes, and entertainment.

photo from 365 Barrington

09/06/18 3:00 pm - 09/06/18 7:00 pm

Come check out the newly revamped and revitalized Barrington Farmers' Market  A wonderful family event, the Barrington Farmers' Market includes a wide array of locally grown fruits and vegetables, flowers and plants, artisanal products, entertainment, and more!

Stop by the BStrong Together table to learn more about our programs for the Fall of 2018.

Every Thursday, June 6th - Oct 18th
3:00 - 7:00 pm
Park Ave & Cook Street

09/08/18 9:00 am - 09/08/18 5:00 pm

**  FREE  **

ADULT MENTAL HEALTH FIRST AID TRAINING

Adult Mental Health First Aid is an 8-hour training course ideal for anyone who interfaces with the public. It was developed because more than 1 in 4 adults will have a mental health challenge such as depression, anxiety, impulse control or misuse of drugs or alcohol in any given year. The National Council on Community Behavioral Healthcare has begun working with community advocates to implement MHFA to equip the public with the needed skills to help people who are experiencing a mental health crisis. The data demonstrates that this program helps those trained to better identify, understand and respond to signs of mental illness, which improves the outcome of the event for everyone. The training open to anyone interested in learning about mental illness and how to respond to someone in a mental health crisis. No previous mental health training needed.

All attendees receive a certificate of attendance for completing the 8-hour course.

09/09/18 8:00 am - 09/09/18 10:30 am

Join BStrong Together and Broncos Committed for a Sunday morning of exercise and FUN focused on supporting parents, kids, and the community.

The 2nd Annual Joe Kelsch Memorial Run/Walk & Family Fun Festival includes 5k and 1-mile timed runs, community walk, place awards for 5k and 1-mile runs, plus music and entertainment from Bob the DJ, games and crafts with Broncos Committed mentors, food, and fun for all ages!!

Register by August 26th to receive $5 off each run or walk registration and guaranteed event t-shirt!

To become an event sponsor, please contact Anne Horwath at anne@strategyskills.com

09/09/18 1:30 pm - 09/09/18 4:30 pm

ALL ARE INVITED TO ROOTSFEST!
Sunday, Sept 9th, 1:30 - 4:30 PM,
inside and outside at the Barrington Area Library

Join the Barrington Area Library for a celebration of ROOTS - roots that sustain and nurture us, that help us grow, that connect us.

Watch plein air painting and a wood turning demonstration
Express yourself through a community drawing activity
Enjoy live music from popular acoustic band The Corner Boys
the experts from Chicago Master Gardeners and Bartlett Tree Experts
Learn from and try hands-on activities with Barrington Area Conservation Trust, Smart Farm, Lake County Forest Preserve District
Explore your roots at our Genealogy Reference Desk
Talk to folks from a real local farm (and taste some of their wares)
Head into Citizens Park for the "Tale on the Trail"

No need to register - just drop in, bring a friend, bring the family! Open to all ages. They are still planning more surprises for Rootsfest, so check out the Barrington Area Library for updates.

10/01/18 7:00 pm - 10/01/18 9:00 pm

Report cards and test scores assess academic preparation. How do we gauge young peoples' mental and emotional readiness for greater independence? Parents, learn from a panel of local experts who will address warning signs, proactive steps to maintain mental health, successful interventions, long-distance crisis response, managing a diagnosis, achieving autonomy, and more.

10/09/18 7:00 pm - 10/09/18 8:30 pm

FREE SCREENING FOR PARENTS, STUDENTS, EDUCATORS, AND COMMUNITY MEMBERS

Join us for a FREE special screening of the movie "Screenagers" followed by a panel discussion for parents, students, educators, and community members facilitated by Jackie Rhew from The Center for Emotional Wellness.

This award-winning film probes into the vulnerable corners of family life and depicts messy struggles over social media, video games and academics. The film offers solutions on how we can help our kids navigate the digital world.   In SCREENAGERS, as with her award-winning documentaries on mental health, Delaney takes a deeply personal approach as she probes into the vulnerable corners of family life, including her own, to explore struggles over social media, video games, academics and internet addiction. Through poignant, and unexpectedly funny stories, along with surprising insights from authors, psychologists, and brain scientists, SCREENAGERS reveals how tech time impacts kids' development and offers solutions on how adults can empower kids to best navigate the digital world and find balance.

Learn more at https://www.screenagersmovie.com/

10/13/18 9:00 am - 10/13/18 5:00 pm

**  FREE  **

YOUTH MENTAL HEALTH FIRST AID TRAINING

Youth Mental Health First Aid is an 8-hour training for anyone dealing with adolescents (12-18), and especially valuable for parents, family members, caregivers, teachers, coaches, peers, neighbors, health workers, and other caring citizens who might interface with an adolescent experiencing a mental health or addictions crisis. The course introduces common mental health challenges for youth, reviews typical adolescent development, and teaches a 5-step action plan for how to help young people in both crisis and non-crisis situations. This training is open anyone who regularly interacts with adolescents, and to the general community.

All attendees receive a certificate of attendance for completing the 8-hour course.