Best We Can Parenting Series:
Leading the Littles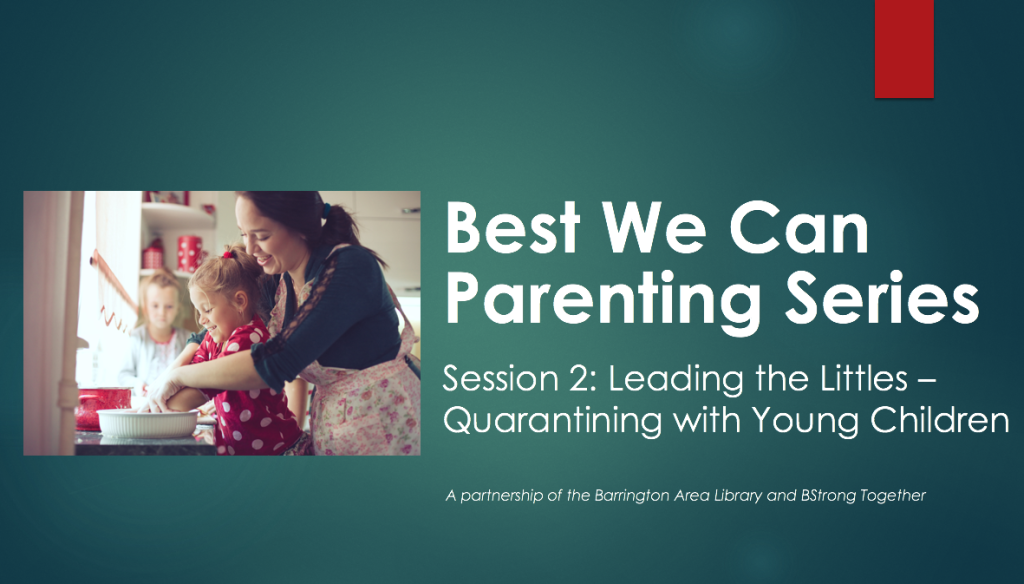 In response to the COVID-19 outbreak, BStrong Together was honored to partner with the Barrington Area Library for the Best We Can Parenting Series – a new virtual parenting series to help parents navigate the challenges of our new world.  
In Session 2, therapist Alex Goreham from Stenzel Clinical Services discussed how to support our younger children during the difficult times as well as share tips and his BE SMART model for parents of all ages.  Alex reminded us that it's okay to not be okay and to give ourselves the space to know that we don't have to be perfect parents.  What was important was our outlook, staying present in the moment, modeling positive coping strategies, and just being there to support our children during the unusual time.
Questions asked during the session include:
What do you think my 4-year-old will remember what happened during this time as they get older?

You mentioned that its okay to give more screen time to my kid who is stuck at home. Do you have a recommendation on how much screen time is good?

You talked about checking-in emotionally your spouse. I feel like my husband does not listen well all the time. What do I do with that?

One of the things lost with this is personal space – everyone is sharing the same space. Any ideas for providing opportunities for alone time.
RESOURCES