Tips for Talking with Your Kids About Drugs & Alcohol
There is only one known entity that can consistently help kids make smart decisions – PARENTS!
Although it may not seem like it, teens are looking for your approval and your guidance. 
Research shows parent disapproval of underage drinking is the key reason youth chose not to drink.
Kids need to know your values, position, and expectations of them on this critical issue. Begin the conversations about drugs and alcohol early and follow these age-appropriate talking tips to help guide your conversations. Remember the advice of our Time-2-Talk About Underage Drinking campaign – it's not one 60-minute conversation, it's 60 one-minute conversations that make the difference.
Need help getting the conversation started?  Click here for an interactive app for your phone that can help.
Tips for talking with your child about alcohol and drugs
Pick the right time.
Be calm and patient.
Don't use scare tactics.
Avoid confrontation and judgment.
Listen to your child.
Encourage honesty.
Set clear boundaries and limits.
Get to know their friends.
Encourage independence.
Remember – most young people don't drink or do drugs.
(source: mentoruk.org.uk)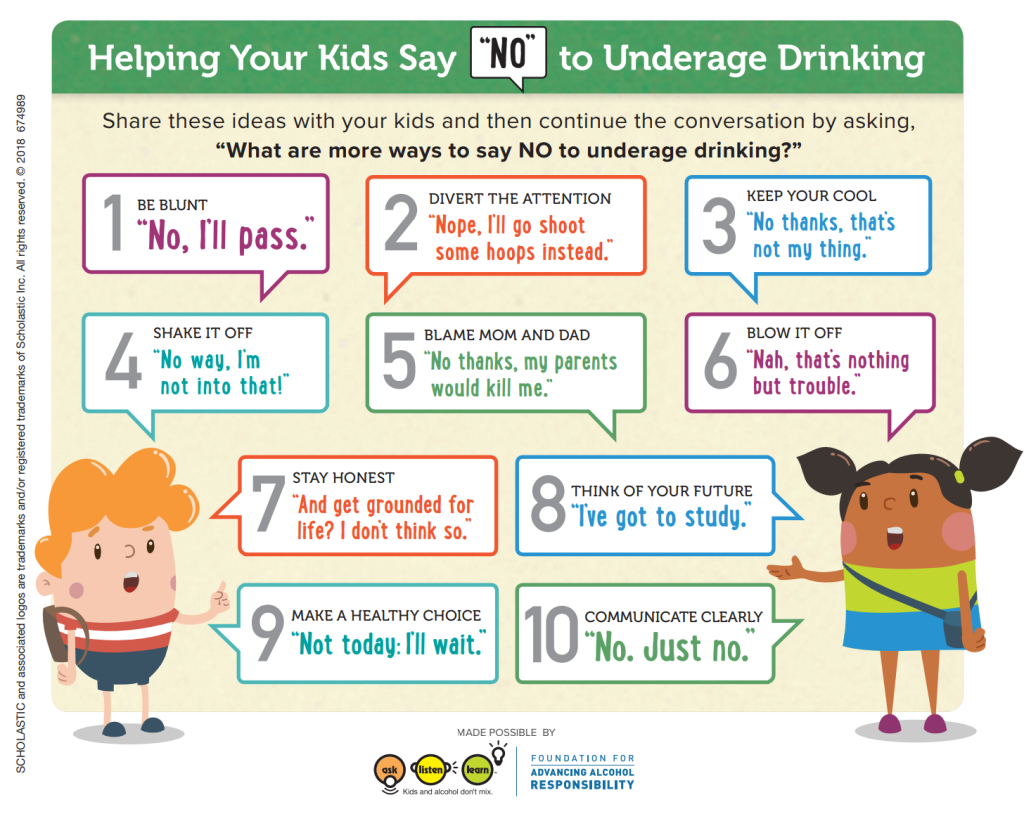 Kindergarten – 3rd Grade
Be open to questions that your child may have regarding alcohol, tobacco, or drugs. Explain what alcohol and drugs are, as well as the harm that they cause.

Express strong family values and rules about alcohol and drugs.

Have in-depth discussions with your child on a variety of subjects. This will lay the foundation for important discussions as they get older.

Build trust so your child feels comfortable coming to you with problems and challenges that they face.

For lots of great resources, talking tips, and videos for children about how alcohol affects the brain, visit

 Ask Listen Learn.
4th Grade – 6th Grade
Be factual. Avoid exaggeration. Explain why some people use substances and explain the risks that they are taking.

Explain how illegal drugs and alcohol adversely affect the developing brain.

Give the facts and discredit the myths they will hear about alcohol and illegal drugs from peers, the media, and others.

Rehearse potential scenarios in which friends may offer them drugs or alcohol. Prepare your child to handle difficult peer situations. (See our strategies for how to say "No!" here.)

For lots of great resources, talking tips, and videos for children about alcohol affects the brain, visit

 Ask Listen Learn.
7th Grade – 9th Grade
Kids at this age are curious about alcohol and drugs. It is critical to provide them with factual information before they have the opportunity to experiment.

Although teens may not show they appreciate it, parents profoundly shape the choices their children make about drugs and alcohol.

Discuss the long-term effects that underage drinking has on brain development and the increased risk of life-long addiction tendencies.

Practice role-playing. Prepare your teen to deal with situations where they might be confronted with alcohol or illegal drugs. (See our strategies for how to say "

No!

"

 here

.)

Help your child develop an exit plan for how to get out of a situation which makes them uncomfortable. Create a code word or phrase that they can call or text you with so that you will know to come and get them.

Reinforce family rules regarding underage drinking and illegal drug use.
10th Grade — 12th Grade
Communicate that underage drinking and illegal drug use have serious and permanent consequences. Older teenagers are future oriented and more likely to respond to discussions about the ways in which underage drinking can affect getting into college, being accepted for a job, and increasing the risk of drug and alcohol dependency as an adult.

Continue to review strategies for how to say "no" and their exit plan. Remind them that if they use the code word or phrase, either over the phone or via text, that you will come to get them. (See our strategies for how to say "No!" here.)

Praise your older teen for all their healthy/positive choices. Encourage them for all the things they do well. Tell them how proud you are of them. Being appreciated by parents is highly motivating for teens to continue to make healthy choices.