In a study by the American Psychological Association, American teens reported only sleeping 7.4 hours on a school night and 8.1 hours on a non-school night, much less than the recommended 8.5-9.25 hours. More than a third of respondents said that they lie awake at night and can't sleep due to stress. The Partnership for a Drug Free America survey found that 73% of respondents said that school stress was the primary reason for their drug and alcohol use. Our children and teens are more stressed than ever and it's effecting both their mental and physical health.
The pressures of school; family and community expectations; over-scheduling and trying to balance school with a job, sports, after school activities, and family obligations; dating/friend relationship or conflicts with family or peers; looks and physical appearance; and lack of sleep, all lead to children and teens struggling to handle the stress of everyday life.
Learning how to manage stress and practice stress-relief strategies is a lifelong skill. To help your child (and yourself) manage stress, teach them the following tips:
Sleep – be sure you are getting enough!

Eat regularly

BREATHE!!

Take a walk – research shows that even a short walk outside reduces stress

Practice relaxation exercises including muscle relaxation techniques, abdominal breathing, or meditation

Exercise

Take a break – read a book, listen to music, draw a picture, play catch, dance, do something you love and makes you happy

Spend time with friends and family

HAVE SOME FUN!

Laugh

Talk with someone about your thoughts and feelings

Enjoy some quiet time with a pet – did you know that petting an animal reduces stress?

Turn off screens 1-2 hours before bed (computer, phone, tv)

Focus on what you can control

Set small goals that can be accomplished

Practice or role-play situations that cause stress

Create balance in your life and schedule

BE KIND TO YOURSELF – realize that you don't have to be perfect; that while academics are important, remind yourself that your worth is not based on your grades, how you do on a test, or how well you perform in other areas of your life; you are wonderful and valuable and important because you are YOU!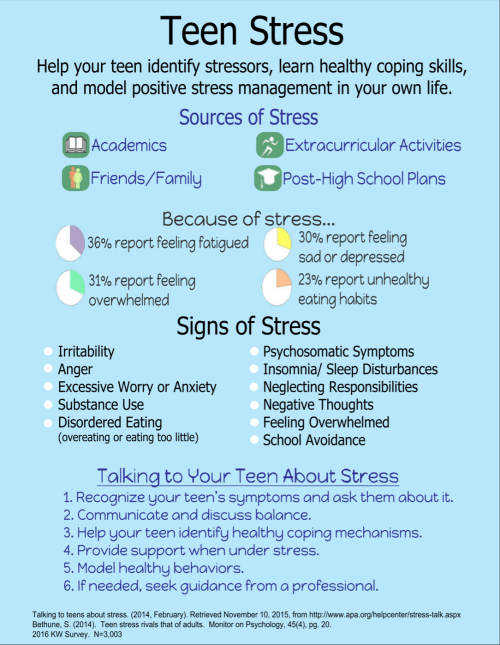 How parents can help:
LISTEN carefully and
CONNECT with your kids.
MONITOR for unhealthy levels of stress – lack of sleep, loss of appetite, moodiness, unusual behavior.
WATCH for signs of overload.
Encourage DOWNTIME.
Be SUPPORTIVE.
LEARN techniques for reducing stress (above) and PRACTICE them TOGETHER.
MODEL

a healthy life balance.
To learn more about stress and anxiety and how to tell the difference, watch the BStrong Together video Understanding and Responding to Stress and Anxiety above with guest experts Jacqueline Rhew and Dr. Robin Choquette – co-creators of the Successful Parenting Plan and the Successful Parenting Podcast.