In a study by the American Psychological Association, American teens reported only sleeping 7.4 hours on a school night and 8.1 hours on a non-school night, much less than the recommended 8.5-9.25 hours.  More than a third of respondents said that they lie awake at night and can't sleep due to stress.  The Partnership for a Drug Free America survey found that 73% of respondents said that school stress was the primary reason for their drug and alcohol use.  Our children and teens are more stressed than ever and it's effecting both their mental and physical health.
The pressures of school; family and community expectations; over-scheduling and trying to balance school with a job, sports, after school activities, and family obligations; dating/friend relationship or conflicts with family or peers; looks and physical appearance; and lack of sleep, all lead to children and teens struggling to handle the stress of everyday life.
Learning how to manage stress and practice stress-relief strategies is a lifelong skill. To help your child (and yourself) manage stress, teach them the following tips:
Sleep - be sure you are getting enough!
Eat regularly
BREATHE!!
Take a walk - research shows that even a short walk outside reduces stress
Practice relaxation exercises including muscle relaxation techniques, abdominal breathing, or meditation
Exercise
Take a break - read a book, listen to music, draw a picture, play catch, dance, do something you love and makes you happy
Spend time with friends and family
HAVE SOME FUN!
Laugh
Talk with someone about your thoughts and feelings
Enjoy some quiet time with a pet - did you know that petting an animal reduces stress?
Turn off screens 1-2 hours before bed (computer, phone, tv)
Focus on what you can control
Set small goals that can be accomplished
Practice or role-play situations that cause stress
Create balance in your life and schedule
BE KIND TO YOURSELF - realize that you don't have to be perfect; that while academics are important, remind yourself that your worth is not based on your grades, how you do on a test, or how well you perform in other areas of your life; you are wonderful and valuable and important because you are YOU!
 
How parents can help:
LISTEN carefully and CONNECT with your kids.
MONITOR for unhealthy levels of stress - lack of sleep, loss of appetite, moodiness, unusual behavior.
WATCH for signs of overload.
Encourage DOWNTIME.
Be SUPPORTIVE.
LEARN techniques for reducing stress (above) and PRACTICE them TOGETHER.
MODEL a healthy life balance.
For more information about teen stress and suggestions for how parents can help, visit the American Psychological Association webpage Talking to Teens About Stress.

 WEBSITES
Stress and Sleep
American Psychological Association
Teens and Stress: How to Keep Stress in Check
American Psychological Association
"5 Things You Should Know About Stress"
National Institutes of Health
"Helping Children Handle Stress"
HealthyChildren.org
"Stress Relief for Kids: How to Make Stress Relief Part of Your Kids' Lives"
Very Well
"Bad at remembering to take care of yourself? These 25 tips can make it almost automatic."
Unworthy & Cigna Healthcare
TOOLS
Headspace
Themed sessions on everything from stress to sleep, bite-sized meditations for busy schedule, and SOS exercises in case of sudden meltdowns.  Free App from the Apple Store or Google Play. Free content plus additional content by subscription.
Calm
Guided meditation, breathing exercises, mindfulness exercises and help to sleep. Free App from the Apple Store or Google Play.  Free content plus additional content by subscription.
BOOKS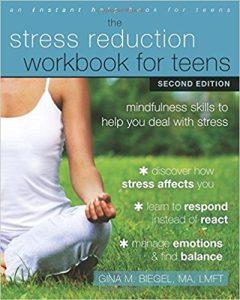 Stress Reduction Workbook for Teens
by Gina M. Biegel MA LMFT
The Stress Reduction Workbook for Teens is a collection of simple workbook activities that will teach you to reduce your worries using a technique called mindfulness. Mindfulness is a way to be aware of your thoughts and feelings in the present moment. You can use mindfulness when you start to feel as though things are spinning out of control, so you can stop worrying about what might happen and focus instead on what's happening now.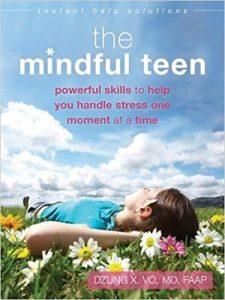 The Mindful Teen: Powerful Skills to Help You Handle Stress One Moment at a Time
by Dzung X. Vo MD FAAP
The Mindful Teen offers a unique program based in mindfulness-based stress reduction (MBSR) and mindfulness-based cognitive therapy (MBCT) to help you deal with stress. The simple, practical, and easy-to-remember tips in this book can be used every day to help you handle any difficult situation more effectively—whether it's taking a test at school, having a disagreement with your parents, or a problem you are having with friends.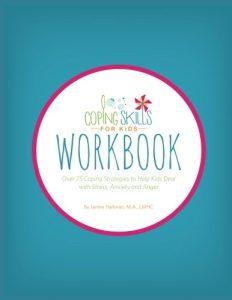 Coping Skills for Kids Workbook: Over 75 Coping Strategies to Help Kids Deal with Stress, Anxiety and Anger
by Janine Holloran
The Coping Skills for Kids Workbook is designed to help kids learn and practice coping skills to deal with anxiety, stress and anger. The workbook includes: over 75 coping skills for kids to try with more than 20 printables/porksheets to help. Links to "Coping Skills for Kids" YouTube videos and a resource collection of other helpful books and websites for families is also included. Kids can read this book on their own or they can work through it with a family member or another trusted adult.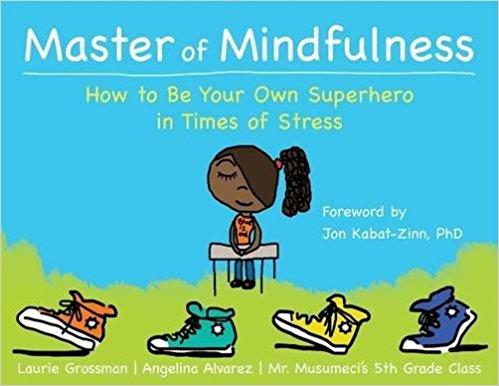 Master of Mindfulness: How to Be Your Own Superhero in Times of Stress
by Laurie Grossman
Master of Mindfulness is a unique and empowering book written for kids by kids, with cool illustrations and tips that show you how to be confident, get focused, stay calm, and tap into your own inner strength so that you can be your own superhero—no matter what life throws your way!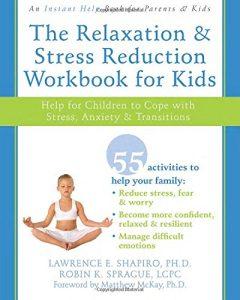 The Relaxation and Stress Reduction Workbook for Kids: Help for Children to Cope with Stress, Anxiety, and Transitions
by Lawrence E. Shapiro, PhD
The Relaxation & Stress Reduction Workbook for Kids, written by two child therapists, offers more than fifty activities you can do together as a family to help you and your child replace stressful and anxious feelings with feelings of optimism, confidence, and joy.