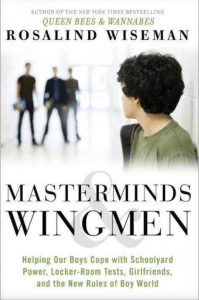 Author of the ground-breaking book about girls friendships and conflicts, Queen Bees and Wannabees, has tackled boy-world in her new book, Masterminds & Wingman. Rosalind's new book, Masterminds and Wingmen: Helping Your Son Cope with School Yard Power, Locker Room Tests, Girlfriends, and the New Realities of Guy World, shows what's really happening in boys' lives. It creates a new language and analytical framework to understand the power of boys' social hierarchies and how these influence their decision-making and emotional well-being.
Read Rosalind's blog and other articles on her website: http://rosalindwiseman.com
.
About the Author
Rosalind Wiseman is an internationally recognized expert on children, teens, parenting, bullying, social justice, and ethical leadership. Wiseman is the author of Queen Bees and Wannabes: Helping Your Daughter Survive Cliques, Gossip, Boyfriends, and Other Realities of Adolescence (Crown, 2002). Twice a New York Times Bestseller, Queen Bees & Wannabes was the basis for the 2004 movie Mean Girls. In fall 2009, an updated edition of Queen Bees & Wannabes will be republished with a chapter on younger girls, insights on how technology has impacted kids' social landscapes, and new commentary from girls and boys. Her follow-up book Queen Bee Moms and Kingpin Dads was released in 2006, and she is a monthly columnist for Family Circle magazine.